Charlie Brown Is High On Peyote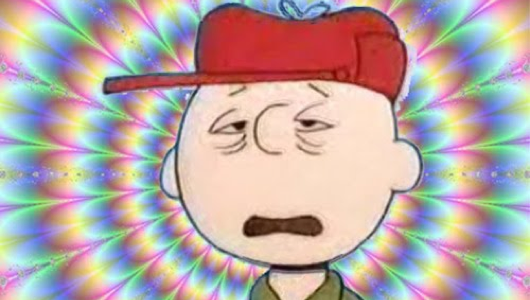 Charlie Brown is high out of his mind on peyote. Seriously, peyote gives people spiritual visions, and here's this bald kid, mired in crippling depression, spending an entire evening in a fucking pumpkin patch awaiting the arrival of the Great Pumpkin. That's the kind of behavior that, if you and I had tried it when we were eight, would have resulted in a talk about Just Saying No, and if that failed, extensive electroshock therapy. Not fucking normal.
Then again, the entire Peanuts universe is batshit-loonball insane. Charlie Brown doesn't even qualify as the craziest fucker in his own house, that title going to the dog that hallucinates World War I battles when he's not busy pretending that he's a best-selling author. (At least we know where the peyote comes from: Snoopy's brother Spike, who lives in the desert outside of Needles, California and may just be the most normal of the bunch.) The closest thing to normal in that household is Charlie Brown's sister Sally, and she's got some fucking issues, such as saving her deepest, innermost thoughts for her fucking school building.
I guess when your parents are AWOL 100% of the time, you tend to get a bit fucked up in the head. Not that they'd be of much help anyway, since they, like all other adults in that town, just say WAHHHH-WAAHHHHH-WAHHH-WAHHHH! whenever prompted to speak.
Charlie Brown: …and I can't even win a baseball game either! Or kick a football! I'm a loser! A big, fat loser, and sometimes I think I should just kill myself!
School Counselor: WAHHHH-WAAHHHHH-WAHHH-WAHHHH! WAHH-WAHH-WAHH-WAAAAAAHHH!
Charlie Brown: What?
School Counselor: WAHHHH-WAAHHHHH-WAHHH-WAHHHH! WAHH-WAHH-WAHH-WAAAAAAHHH!
Charlie Brown: I can't understand you! I think there's something wrong with my brain! Oh, God! I can't take it any more!
School Counselor: WAHH-WAHH-WAHH-WAAAAAAHHH-WAH-WAH!
Charlie Brown: I'm going to take a handful of pills.
Mental health issues are so rampant amongst the children in this town that they have to resort to unlicensed psychiatric help from a fucking seven year old.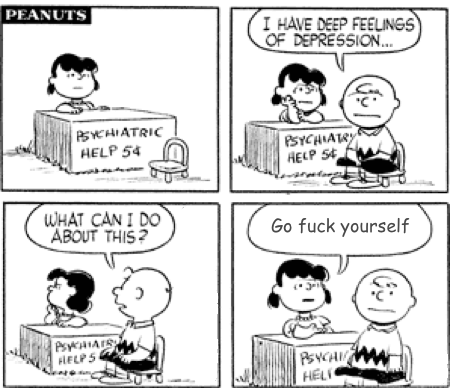 You've got a kid with hygiene so poor that he's followed by clouds of stank, an eight year old with thinning hair and a security blanket, a Beethoven-like prodigy so disinterested in tail that he ignores the groupie hanging out at the end of his piano, and a radical lesbian character who is never seen without her submissive partner.
Holy fucking shit, what a collection of damaged fucking kids. This ran in every newspaper for fifty fucking years! And people think I'm sick.