The Face Slimmer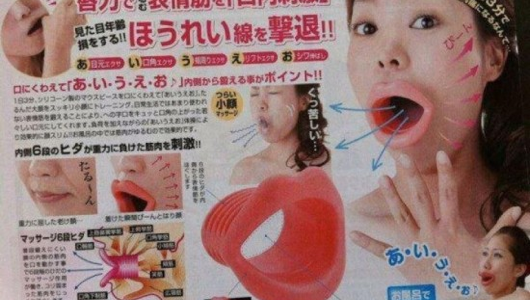 For those of you who read last week's Week In Review, you'll be familiar with the picture off to the left of what appears to be a Japanese woman slowly turning into an inflatable fuck doll. This is wonderful fodder for smug American pricks such as myself, who like to make fun of anything nonsensical, foreign, or (ideally) nonsensically foreign. In this case, however, I was wrong to poke fun at that advertisement because this wonderful invention will help all of you ladies out there whose faces are slowly turning into mush. Behold the Face Slimmer from the wonderful folks over at Glim.
Yes, the Face Slimmer is a wonderful invention that will save you from the embarrassment of trying to use the free weights at the gym with your cheeks.
The Face Slimmer is a simple solution to the timeless problem of how to give sagging facial skin and muscles that much-needed daily lift.
The manufacturer recommends that you use it for three minutes a day and "say vowel sounds over and over again" such as:
Aaaaaay
Oooooooh
Uuuuuuuuuh
I am a fucking imbecile
In addition to the wonderfully effective results, you'll look like the coolest person at your next PTA meeting when you show up looking like this:
How much would you pay for this? Let's look in the mirror and be honest, shall we? Does your face look anywhere near as youthful and radiant as our gullible Japanese friend up there? Fuck no. According to Japanese scienticians, your face more closely resembles a wad of roast beef that has been stretched by a team of horses. So you will fucking pay anything for the Face Slimmer and like it. Luckily for you, Glim is selling it for only $79. That's right, a hunk of reddish plastic nightmare fuel for the low, low price of $79!
Now I know what you're saying at this point: You're saying, "Thanks, Greg. But what else can Glim do for me and my freakshow of a face?" I'm glad you asked. Are you tired of your nose dangling in your soup? Does your drooping nose interfere with you going to the bathroom? Do you have so much money that you find yourself setting fire to piles of it for kicks? If you answered yes to any of those questions, you need the Beauty Lift High Nose Electric Nose Lift!
Yes, for only $86, your nose can be rocking it in the penthouse instead of slumming it with the derelicts and weirdos in the basement. But what if your nose doesn't droop so much as it looks like an owl took a dump on your face? No problem! Just slap a fucking butterfly clip on that horror-show of a schnozz and you'll be the talk of the town.
But what if you want to tighten up your face and look like a Mexican wrestler?
"Ok, Glim, let's say I'm an attractive, young, professional woman with a secret Gimp fetish. What've you got for me?" Only this: Booyah!
Want to look like you're drinking a jar of Olay?
Or what about something that will make you look like you're fellating a tulip?
Yes, the wonderful folks at Glim are constantly thinking of you and your hard earned cash and you can count on them to come up with wonderful products such as these to enrich your life and provide endless amusement for your friends. So the next time you're in the market for an anthropomorphic diarrhea cork, look to the good folks at Glim!
God, I love the Japanese. All items are real, and can be ordered at the Japan Trend Shop.