Once More From The Top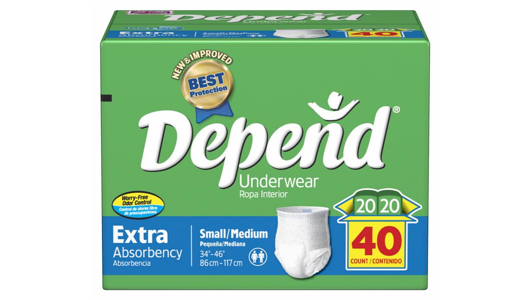 Ok, I have specifically mentioned this once before, but apparently not everyone took the hint. Seniors, incontinence is not only a nuisance, but a source of shame as well. I wouldn't wish it on my worst enemy. Ok, that's bullshit. There are a couple of people who I would dearly love to see piss themselves in a crowded, public place. In general, though, I wouldn't wish incontinence upon anyone. But let's be very clear about this: Depend undergarments are designed to protect your dignity and allow you to adjourn to the nearest bathroom so that you may clean yourself in private. They are not a luxury to allow you to avoid basic personal hygiene.
I direct this latest plea for sanity to the elderly person who stood in front of me in line at the grocery store last night, reeking like he'd been marinating in a trough-style urinal at Wrigley Field for a few weeks. The guy had visible stink lines emanating from his ass. It was vile beyond belief. It would just waft over you like a cloud of rank piss, and it just kept coming in waves, each horrifyingly worse than the preceding one. Dude, you don't wake up at five in the morning, go golfing, drink a pitcher or six of lemonade, take a nap, watch TV, jabber on at the post office about how bread used to cost a fucking nickel, and then go to the grocery store without once changing your fucking diaper! Even if you don't notice the sudden change in temperature and humidity south of the equator, you need to give yourself a little piss test every now and again. You probably pissed yourself at some point during the day, so go fucking do something about it!
This happens all too often down here in Arizona (state motto: What's That, Sonny?). I once had a lady, fresh from church, sit down next to me in a restaurant smelling like she'd just auditioned for the role of a urinal cake in a bar for weak bladdered people. She reeked so badly that the smell was like the spice in Dune: After a while, I was able to travel through space and time to a better planet where selfish pricks didn't funk up a fucking restaurant because they were too lazy to stop in a goddamn bathroom every couple of hours.
You know how they have those interlock devices that take all the fucking fun out of drunk driving? (Just kidding, don't drive drunk. That's for douchebags.) They need a comparable device installed on Cadillacs, golf carts, and vehicles with wheelchair mounts: When you sit down, you place a tube near your crotch. If it registers bodily fluids, the car explodes. Or it won't start, whatever. The point here is that it would prevent these feeble fucktards from sloshing into a place where food is being prepared smelling like a house full of toddlers engaged in a pissing contest. Why do I even need to say this? Isn't this common sense? If you piss yourself, check your ass before I wreck your ass!
I swear, the next time this happens, I'm going to let the whole fucking world know what is going on. "WHAT THE… OH, FUCK, ARE YOU KIDDING ME? LADY, YOU FUCKING PISSED YOURSELF! HOLY SHIT, YOU SMELL SO… OOOOOHHHHHH GOD, HOW CAN YOU SMELL LIKE THAT AND NOT NOTICE IT? JESUS, IT'S JUST… SERIOUSLY, WHAT HAVE YOU BEEN DOING ALL DAY? EATING ASPARAGUS AND DRINKING DITCH WATER? I DON'T THINK THAT'S A SMELL A HEALTHY PERSON IS SUPPOSED TO MAKE! ARE YOU BLIND, TOO? DO YOU NOT SEE THE BATHROOM SIGNS IN ALL PUBLIC PLACES? DO YOU NOT OWN A BATHROOM? AND YOU DON'T… OH GOOD GOD, HOW CAN IT JUST GET WORSE LIKE THAT? IT'S LIKE FOG ROLLING IN OFF THE BAY. FOG MADE OF RANK, FETID PISS! LADY, HAVE SOME FUCKING DECENCY AND GO CHANGE YOUR FUCKING DRAWERS ALREADY! HOLY MOTHER OF GOD YOU FUCKING STINK!"
Actually, I think I'm gonna carry a voice recorder around with me just in case this happens. Which it will.