Oh, The Weather Outside Is Frightful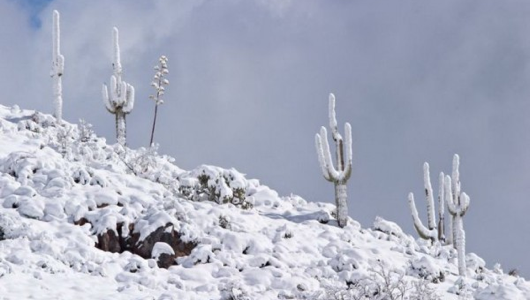 I looked at the weather forecast at work today and damn near fell out of my chair (from surprise, not drunkenness). We've got a 70% chance of precipitation tonight with a low of 32 degrees Fahrenheit. For those of you with brain damage (or on the metric system) that means one thing: Snow! Of course some of you are no doubt sick and fucking tired of snow (I'm looking at you, Buffalo!), but down here in Phoenix snow is rare enough that we enjoy it, especially since we don't have to shovel it, remove it from our rooftops before it crushes us, or dig through it to find the frozen carcasses of loved ones.
While discussing the prospect earlier, someone said to me, "Can you imagine what this town would be like if we got an inch of snow?" Actually, I can. An inch of snow in this town would cause all of the following to happen:
50% of the cars on the road would immediately crash into the other 50% of cars on the road. 99.9998% of Arizona residents are from somewhere else. There are four meth cooks who were born and raised in Arizona, and that's it. Everyone else is from Scranton, Pennsylvania or some such place. Because of this, we actually have people in the state who have experience driving in snow, not that it would do any good. When you move to Arizona, you immediately forget how to drive in any condition other than perfect.
One year (I actually did this), I kept track of how long my daily commute took me when it was sunny, and how long it took when it was overcast (but not raining). Over the course of six months, the data proved that Arizona drivers drive 10% slower when they think that it might rain at some point in the near future. Think about that for a second: People are driving down the road when they think to themselves, "Hmmm, there are clouds 20,000 feet above me. I better slow down." Fucking morons.
People drive like idiots down here when the weather is good. People drive like idiots who have been struck on the head repeatedly with a croquet mallet when the weather looks like it might be bad later on. If the weather actually took a turn for the worse and dumped an inch of slippery stuff on the roads, hundreds of thousands would die, and 911 would receive a record number of emergency calls to report an out of control Cadillac on the 4th floor of a Children's hospital.
My kids wouldn't appreciate it. When I was a kid, snow was a wondrous thing, and not just because it sometimes resulted in not having to go to school. In 1979, a major blizzard hit the metropolitan Chicago area, with high winds whipping over two feet of new fallen snow into monumental drifts so high that you could walk on them right up onto rooftops. We lived on a cul-de-sac, and the snowplows (when they eventually came), plowed the snow into a circular ring of snow mountains almost twenty feet high. We fought valiant snow wars on those mountains; Empires rose and fell, alliances were formed and broke apart in acrimony, and younger brothers were flung headlong to their doom. It was kick-fucking ass.
If that happened today, my kids would briefly look up from their Nintendo DS and grunt. Maybe. Snow just can't compete with blowing virtual beings into bloody bits. Not that I blame them. When I was a kid, this was the hot game:
I remember in 1978 asking for Merlin for Christmas and not getting it because it cost too much. I accepted this with good grace and learned a valuable lesson about fiscal responsibility. Hahaha, just kidding. I bawled my eyes out and learned that my parents were fucking cheapskates. But I did get Merlin the next year, and was captivated for up to three whole minutes by the many different game modes, all of which simply displayed a red light and went "Boop!" It's a good thing for my parents that it snowed a lot that winter, because they may have had a mutiny to deal with otherwise.
People at work would never stop talking about it. Weather is a popular source of small talk at the office because it's something that everyone shares, and it's unlikely to be the source of contentious debate. You don't talk about shit like gun control because invariably one person will say, "Did you know that there is a 43% chance that a baby will be shot in the head as it is being born? Guns need to be banned!", and then another person will say, "No, we should arm babies in the womb so that they have a fighting chance! If you ban guns in maternity wards, the only people that will have them are criminals in maternity wards!"
So people stick to the weather. You're very unlikely to run across someone who will claim that humidity is a myth perpetuated by the liberal media. It's a safe topic. And because it's safe, people in the office will never shut the fuck up about it.
Employee: Hey, did you see the weather forecast?
Other Employee: Yes! It's going to be (pick one) surprisingly cold/moderate/ball-scorching hot tomorrow!
Third Employee: I know! It's so (pick one) similar/different to the weather we've been having for the past three months!
Yet Another Employee: And did you see the forecast for the day after that?
This conversation will go on and on for hours, attracting huge mobs of people eager to talk in great detail about how the weather is either staying the same or changing in some way. My own personal research US Department of Labor statistics show that discussing the weather is the number three cause of productivity loss in the workplace, behind only photocopying genitalia, and viewing online photos of Lindsay Lohan's snatch.
Someone will make a giant snow-dong in their front yard. And I'll admire my handiwork until an out of control Cadillac runs it over.