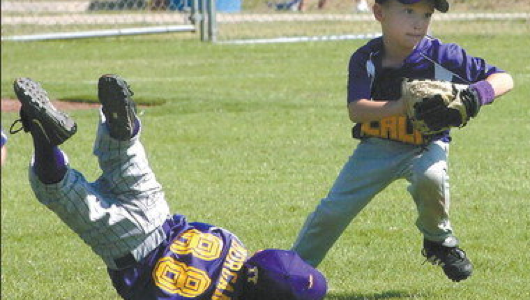 I had the distinct pleasure of watching my five year old son play in his first tee-ball game this weekend. For those of you not familiar with tee-ball, it is exactly like baseball except the players have all been exposed to a high power Attention Deficit Disorder ray. For example, in the second inning, our right fielder, Kyle, was sitting down and dreaming about space-robots, because this is what you do when you're five and no one can hit the ball as far as the outfield. All of a sudden, a ball actually made it through the sieve-like gloves of the infielders and rolled right up to Kyle. Startled by the sound of twenty adults suddenly shouting his name, Kyle sprang into action, turned around four or five times, located the ball and scooped it up. As he reared back to throw, he spotted a dandelion and so of course he stopped, mid-throw, bent over and blew the seeds off of the dandelion. Then he threw the ball to the infield. This is not the kind of baseball you see in the big leagues, unless you happen to be a fan of the Kansas City Royals.
Unlike the Kansas City Royals, however, my son's team had fans that genuinely enjoyed the game and the effort put forth by the players. And the fact that it was their first game made it even that much more special for everyone. The kids loved it, and immediately began picking up on the time honored traditions that make baseball so great, such as:
Scratching your nuts during the national anthem
Climbing the chain link dugout fence and screeching like a monkey while waiting to bat
Placing your cap over your face and fielding by intuition alone
Having two, or sometimes even three runners meet at second base to discuss Mario Brothers.
The final score of the game, incidentally, was I Don't Know to Who Gives A Fuck. This is because this is an "instructional league" where the score is not kept, and in fact, outs are not recorded. My son's team was much better than the opposing team, and would throw out six or seven base runners who, instead of returning to the dugout to put rocks in their ears, would simply stay on base. Normally, this type of shit would get on my nerves but, hey, it's tee-ball. Plus it's hard to get pissed when you've got a dandelion-related grin on your face all day.
Kyle inspired me, in fact. Here's a young boy under pressure to perform in a game he's only begun to vaguely comprehend, and with dozens of adults yelling at him he still manages to see the dandelion. That's my new goal in life: No matter how crazy it gets, I'm going to always try to see the dandelion.
On to the week you missed while you were waiting for an inning without outs to end.
We interrupt this post for a word from our sponsor, or at least we would if we had a sponsor, but we don't. Instead we pretend we do, enrage multinational corporations, and line the pockets of sleaze-bucket lawyers. It's Involuntary Advertising: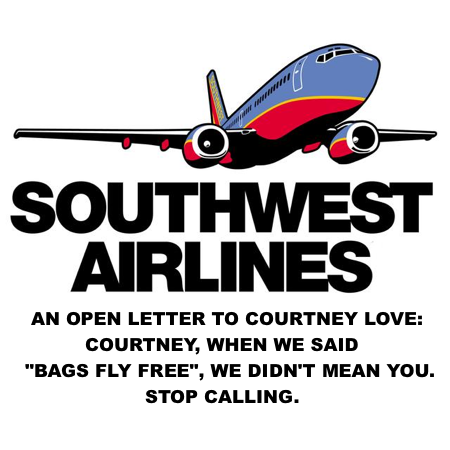 Our Poll of the Moment has just closed and the accounting firm of Me, Myself, & Beer has tabulated the results. Jan Brady is a filthy fucking slut:
Which of the following Brady kids is most likely to have caught crabs in high school?
Jan (56%, 10 Votes)
Marcia (17%, 3 Votes)
Greg (11%, 2 Votes)
Cindy (6%, 1 Votes)
Bobby (6%, 1 Votes)
Peter (6%, 1 Votes)
Total Voters: 18
Loading ...
Look, we all know Jan Brady is a cum-dumpster. Anyone that neurotic about living in her sister's shadow is bound to do almost anything to get attention, and if that means letting the football team go elbow-deep, well, then so be it. We had a girl like her in my high school. She had recently moved back to the area after having been gone for five years. When she came back, she was not the gangly, awkward shy girl I had known. "Hey, Kim! Wow, I haven't seen you in a long time. How've you been?" I asked as I suddenly found her sitting next to me. "I've been doing ok. I got these braces, though, and guys hate them because their pubes keep getting caught in them. What are you doing after school?" Yikes. "Not you."
Anyway, Jan Brady ran away with the poll, with her sister Marcia coming in second. Cindy was tied for last. The Brady boys somehow got votes as well, which is fucked up and wrong, people. Have you ever seen three boys that deserve the tag "Lifelong Virgins" more than the Brady Boys? Ladies, let's say Greg Brady walked up to you and said, "Hey, groovy, lady! I think you're foxy. Why don't you come up to my room with me? I'll tell my two brothers to get lost, and we can even turn the painting of the sad clown around if you want." If that happened, you wouldn't just say no to him, you'd say no with mace.
The only way the Brady boys could get crabs is if they spent an inordinate amount of time trying on Jan's panties, which, now that I think about it, is pretty likely and probably why some of you voted for them. So, well done.
Let's see… innocent kids playing tee-ball, Courtney Love, and a football team arm-blasting Jan Brady. I'd say my work here is done. Have a great week, everyone. See the dandelions.