Rock And Roll Is Dead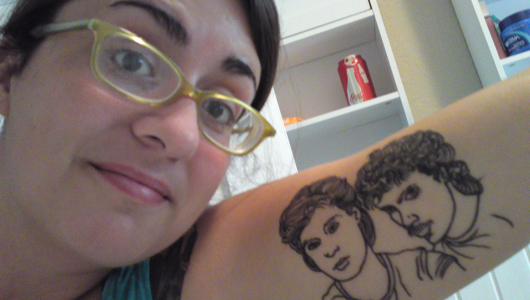 I was at work today, calmly minding my own business when an alert on my news feed interrupted me in the rudest way possible: "Hall & Oates nominated for Rock and Roll Hall of Fame". What a kick in the fucking teeth. I mean, why don't you just break all the bad news at once, why don't you? "Planet Doomed: Last Days of Earth to Feature Million Degree Temperatures, Glee Marathon". Fuck.
Now, for those of you who don't know who Hall & Oates are, oh, how I envy you, you lucky bastards. You see, I grew up in the 70's and 80's, and so I've had my fill of fucking Hall & Oates. Seriously, they were so prevalent for a while there, that some brain-dead waste of genetic material green-lighted this musical abortion:
You have to give them some credit, though: They were obviously years ahead of their time on the topic of gay marriage.
I love the part where the people show up with booze, and Hall & Oates don't let them in. "Hey, assholes, we're Hall & Oates. No one is going to be having fun here tonight!" And then for some reason, the drinkers are still hanging around, looking in the window, wishing they were inside.
Now, I've had plenty to drink in my day (I get thank you cards from Heineken every Christmas), and I'm certainly not averse to saying some pretty crazy things while under the influence, but I can say with a high degree of certainty that the phrase "Hey, let's get loaded and go hang out with Hall & Oates" would not be one of them.
It's not that Hall & Oates are bad, mind you. Just that they're… Meh. And I didn't think we rewarded "Meh" in this industry. Hahahaha!!! Just kidding, we do it all the time! Right, Miley?
But rewarding 80's lameness with entry into the Rock & Roll Hall of Fame just seems wrong. I mean, this was the kind of thing that was popular in the 80's, and I don't think anyone in their right mind believes we should be encouraging it:
Sorry about that, incidentally. I know all too well the terrible power of that song. You could be in a board meeting, getting ready to recommend a radical rebranding strategy designed to take your flagship product into a new realm of popularity and profitability, standing in front of some of the most powerful people in the industry, reaching for a glass of water as a bead of sweat trickles down your neck, and while you should be thinking how to best phrase your argument for maximum impact, instead all you're thinking is… "Jitterbug!"
A couple of years ago, one of my brilliant commenters suggested that we periodically take people out of the Hall of Fame, a job so wonderful that I would pay to have it. ("Hey, Earth! Go get Wind and Fire, and get the fuck out of here! And take all those fucking gold lamé pants with you!") Now that I think about it, though, we can do a little better. Here's the deal: In order to get into the Rock and Roll Hall of Fame, someone has to get kicked out.
Nirvana, for instance, has also been nominated for the 2014 Rock and Roll Hall of Fame class. Say what you want about them, but Nirvana belongs. So, you simply have to find someone currently in who doesn't deserve to be such as… Oops, sorry ABBA. We know you're really big over there in Europe but other than shrieking middle-aged women who murder karaoke versions of Dancing Queen, no one on this side of the pond gives a rat's ass.
And that would make getting inducted into he Rock and Roll Hall of Fame truly difficult, an achievement set aside for only the best of the best, and not fucking Steely Dan. And when someone piped up and said, "Hey, what about Hall & Oates?" everyone could then laugh at that person, and possibly roll them up in a carpet and throw them off a bridge for being so out of touch.