On Sausages, The Importance Of Keeping Hydrated, And Being Mean To The Help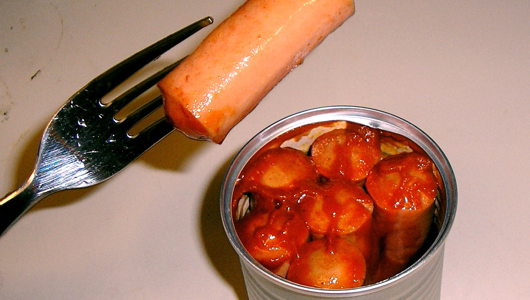 I found myself nauseated in the grocery store today. Normally if I feel nauseated in the grocery store, it's because I'm in the potted meat aisle. There is something inherently wrong with potted meat, and if the lack of refrigeration and sci-fi-like expiration dates ("Best before 2112!") don't put you off, the contents should. A friend of mine once lost his fucking mind and tried Vienna Sausage, an experience he likened to eating pig dicks soaked in vomit, which in my mind is an insult to both pig dicks and vomit, because Vienna Sausages are fucking rank.
But this time, my queasiness was due to something I ran across in the checkout aisle, namely a picture of Jennifer Lopez on the cover of People magazine that was captioned, "Jennifer Lopez at Home", and shows her with her kids and a couple of dogs, cavorting in a wholesome, family sort of way in the back yard. This is fourteen kinds of bullshit.
First of all, J-Lo is a fucking Brand, people, and she cannot risk the J-Lo Brand by being caught hanging out with anyone less cool than Casey Affleck. One time Ben Stiller got a little too close to her at an awards show, and her bodyguards beat him so severely that he's little more than a whiny shell of his former, whiny self. So if you think that she really posed with children and dogs for People magazine, you are sorely mistaken. That shit was Photoshopped, and just to be sure that no one got the wrong idea, when the shoot was over she had the dogs (and possibly the kids) put to sleep.
Second of all, the idea of Jennifer Lopez having anything even remotely approaching a normal home life is so wrong as to be laughable. Your average day, for instance, might include tasks such as grocery shopping, doing the laundry, or helping the kids with homework. Jennifer Lopez, on the other hand, has a To Do list with tasks on it like "belittle the help", and "gold-plate vagina".
Jennifer Lopez does not put her pants on one leg at a time like you or I. She has a specialized team set aside for pant application, and they carefully do their job while she slumbers in the early morning, a thankless task that invariably results in an encounter with J-Lo's Whipping Flunky, who lashes them furiously when she decides that the pants are "a little too teal".
Jenny from the Block doesn't fuck around. One time her personal bathroom assistant didn't preheat J-Lo's baby seal fur tampons to exactly 102º Fahrenheit, and she had her dragged behind her Rolls Royce all the way down to Paris Hilton's house, where they spent the afternoon enjoying margaritas and "pouring salt on the commoner".
Now, you might think that I'm exaggerating things more than a little bit here, but I will have you know that (trumpet flare):
I HAVE A RELATED ANECDOTE!
About a million years ago, I briefly dated a girl who worked for a company that did consulting for celebrities. You know, the kind of people who would tell Sylvester Stallone that he could increase his popularity a trillion percent by fucking off and never appearing in public again, if only he would give them the chance.
She said that J-Lo was considering availing herself of their services, but showed up with an entourage so large that after she'd left, everyone agreed that their lives would be greatly improved by having nothing to do with Jennifer Lopez ever again. "The thing that blew me away," she told me, "was that she had one guy whose job was to hold her bottled water, and yet another guy whose job it was to take the water from that guy, and then give it to her!"
Speaking of bottled water assistants…
I HAVE ANOTHER RELATED ANECDOTE!
A friend of mine once told me that in the early 90's, he was working out in the gym of a hotel that he was staying at, riding an exercise bike, and enjoying the fact that he had the gym to himself when a man in a suit strode up to him and informed him that he would have to get off the exercise bike right away. "That's Ms. Estefan's exercise bike," he haughtily informed him.
So my friend looked over, and he could see Gloria Estefan standing at the end of a row of totally-not-being-used exercise bikes, looking annoyed and impatiently tapping her foot. "I was going to tell the guy to fuck off, but right about then the concierge showed up and pantomimed some, 'I know it's ridiculous, but could you PLEASE move' gestures, and I was done anyway, so I rolled my eyes and left."
A few minutes later, as he was heading up to his room, he saw Gloria Estefan cycling away, while Mr. Suit Flunky stood there next to her, holding a silver tray with a single bottle of Evian on it. Nice job, pal. "What do I do for a living? I'm a shelf."
For those of you who don't remember Gloria Estefan, don't worry: No one else does either.
I guess the bitchiness/bottled water tie is what makes me think of Gloria Estefan whenever I think of J-Lo (which is mercifully quite rare), but it does give me an idea: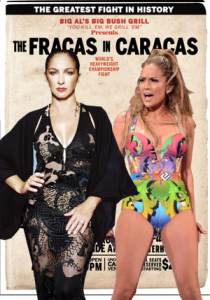 A pay-per-view fight between J-Lo and Gloria Estefan with pool cues, pitchers full of acid, and running chainsaws. You know who would win that fight? Every single one of the pay-per-view customers, that's who, and I'm willing to bet that even the guys ringside, holding bottled water would get a kick out of it too.